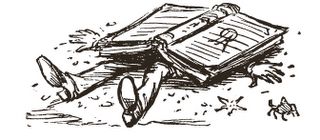 Overbooked!
"Stories to Go" is back. After over two months of computer breakdowns which led to virtual nervous breakdowns, we are glad to finally start publishing again. We will try to stay on a schedule of one story a day every three days, with short descriptions of the story, its author, and its reader (when necessary). Eventually we hope to go back and fill in the gaps of previous stories and dates, providing the information and synopses (however short) of all we've been promising.
Thanks to all the readers who have contributed to this site over the past nine months, which allowed us to rest our voices and provide some much-needed variety here. Thanks most to all the listeners who have been tuning in over the past year--for your support, your good wishes, your kind messages, and your willing ears.
As a well-known fast-food franchise used to say, "we do it all for you!"

Sorry to those who have had problems with downloading--these are continuing issues, most often with Apple computers, which are beyond our control. All we can suggest is that anyone experiencing problems retry downloading at another time, stream the story off our site or other sites which link from us, look for the podcast on iTunes, or try another computer. We can't go door to door fixing problems, however much we'd like to give personalized readings everywhere!